Negro is a happy dog that is thankful to have found food, shelter, and people who love him at Diversified Technical Education Institute of Monterrey Casanare in Columbia. But anything beyond that, he will provide for himself. And by this, we mean treats. He decided that he will pay for what he gets in this department. And he pays for his treats, every day, with leaves.The black dog started sniffing around the school's campus about five years ago. It wasn't long before this sweet dog stole the hearts of the school's staff.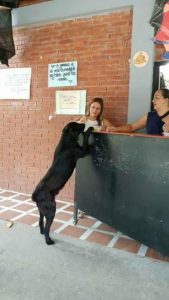 They forged an agreement where they would provide him with food, water, affection, and shelter during the night. In return, Negro serves as a kind of watchdog. He surveys the school grounds and watches over the students during the day. This humble dog was so grateful that he didn't want to want to over impose by begging for free treats. So, he decided he would pay for them. It all started when Negro discovered the school's store on campus. Students will go there during their breaks and purchase things. This included cookies that they would feed to Negro. But the students weren't the only ones learning things on the school grounds. Negro discovered what commerce is in that store.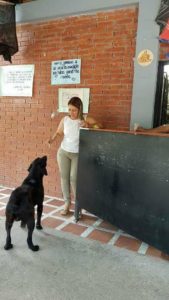 He figured out by watching the students that if you give something, you get something in return. "He would go to the store and watch the children give money and receive something in exchange," one of the school's teachers, Angela Garcia Bernal, told The Dodo. "Then one day, spontaneous, he appeared with a leaf in his mouth, wagging his tail and letting it be known that he wanted a cookie." Negro didn't have access to money so he decided that leaves would be his currency. Which the store happily accepts from Negro. Afterall… they are both green! So for Negro, money does grow on trees! Now that he knows that leaves can buy cookies, he stops in every single day to make a purchase.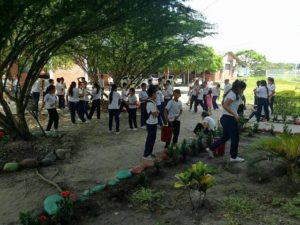 "He comes for cookies every day," store attendant Gladys Barreto told The Dodo. "He always pays with a leaf. It is his daily purchase." And Negro has been doing this for years. The staff, however, always makes sure that the cookies are safe for dogs and that he's only allowed to buy a few each day so that Negro's belly doesn't get too big. "When you first see it, you almost want to cry," Bernal said. "He's found a way to make himself understood. He's very intelligent." And, of course, the internet absolutely fell in love with Negro's story! "So sweet Dogs are very smart they pay attention to everything," said one commenter.