When a couple found this pit bull at a dog shelter, she was pregnant with 12 puppies. But when the pit bull was ready to pop, she was reluctant to do so. That's when the couple knew they had to do something about it. One day, dog lovers Mariesa and Chris stumbled upon a shelter dog called Storie at a county shelter.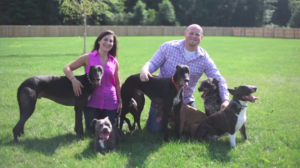 As soon as the couple laid their eyes on the pit bull, they were ready to bring her home. Mariesa wanted to help the dog straight away. "And she was like, 'Let's save the dog. That's why we're here,'" recalled Chris. Storie was pregnant with 12 puppies, and the couple knew that a shelter isn't the best place for a dog to give birth.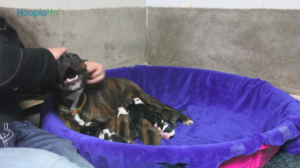 Storie was too stressed to go into labor, so the couple had to bring her home. "Dogs having puppies at shelters, it's not the best thing for them. It's stressful for her, stressful for the puppies," Chris said. The kindhearted couple bought a comfortable bed and necessities in order to help Storie with a smooth labor.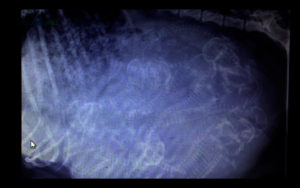 "It seems like she went into labor that night, and then started having puppies the next day, 18 hours after we pulled her from the shelter," said Mariesa. "And then I end up with 12 puppies."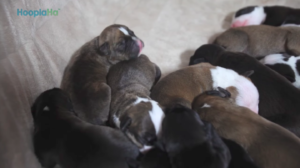 The couple were initially contemplating keeping one or two of the puppies for themselves. Chris revealed, "There's tons of applications in on them." However, all 12 puppies ended up being adopted into new loving homes.
And the puppies' mom, Storie, was adopted by Chris's best friend. That's a lot of dogs! Mariesa and Chris sure do have hearts of gold to help these shelter dogs find their forever homes. Way to go!