Stray Rescue of St. Louis received a shocking call from a homeowner who was getting ready to move into his new house. The man told them: "I just bought a house and there is a pit bull chained up in the basement. I'm not sure how long it's been down there." The rescuers learned that a squatter had been living in the house before the man bought it. Clearly, they had left the house in a hurry, leaving their poor dog behind. The rescuers didn't waste any time—they headed straight over to the house. The homeowner couldn't be there, but he had his friend let the rescuers in. Once the rescuers were inside, they cautiously went into the basement. After spending so long chained up by herself, they weren't sure how friendly the dog would be. It turned out, they had nothing to worry about. As soon as she saw the rescuers, the pit bull's tail started wagging, and she jumped up and down for joy. The pit bull was so happy to be rescued! "When we opened the door to the basement and shined our flashlight down, we saw a wagging tail,"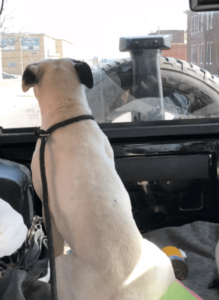 Natalie Thomson, Stray Rescue of St. Louis's communications director, told The Dodo. "She was nearly choking herself as she was so excited to see us. When we freed her, she couldn't stop jumping up and down and giving hugs." Once the dog had calmed down a bit, they cut off her chain and put a leash on her. Then, they brought her outside. She was so happy to be out in the sunshine—she couldn't stop wiggling and hugging her rescuers. Since she was so bouncy, the rescuers decided to name her Jumping Bean. The rescuers brought Jumping Bean into their van.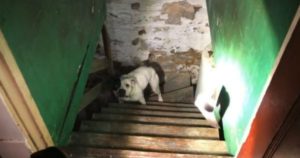 On the ride to the shelter, Jumping Bean's tail kept wagging continuously, and she had a great time sniffing everything in the van. She also loved looking out the window at all the sights around her. The rescuers brought Jumping Bean to their shelter, and she quickly settled into life there. The pup never stopped being joyful—she's incredibly energetic, and she loves everyone she meets. Even though she's been through a lot, this dog never lets anything get her down! Jumping Bean is currently still at the Stray Rescue of St. Louis, receiving treatment for earworms. While Jumping Bean recovers, the shelter is busy searching for her forever home. Jumping Bean can't wait to meet her new owners—she'll fill their lives with so much joy!