Veterinarians see it all the time: animals and more specifically, dogs with nasty ear infections. These infections usually occur because of a lack of cleaning. Yeast builds up in the ear area over time, which is very attractive for bacteria because of the temperature and humidity.To prevent these ear infections, it's highly important that you clean your dog's ears on a regular basis. Another preventive measure you can take is grooming any excess hair. Sometimes, an ear infection is also caused to due any skin allergies your pet might have, as they tend to scratch their ears with their paws which again can introduce bacteria. In any case, it's much better to prevent than to cure!
Although it's important to groom and clean your canine four-footer on a regular basis, there are a number of breeds and mixes that have a higher chance of infection because of the structure of their ears. If your dog's breed is in this list below, or if it's mixed with one of the breeds in the following list, there's a higher risk of ear infection and it's recommended to clean the ears of your pup every week.
Afghan Hound
Basset Hound
Beagle
Bloodhound
Bullmastiff
Cavalier King Charles Spaniel
Cocker Spaniel
Coonhound
Dachshund
Doberman
Golden Retriever
Great Dane
Labrador
Newfoundland
Poodle
Portuguese Water Dog
Saint Bernard
Schnauzer
Shih Tzu
Springer Spaniel
Weimaraners
It's extremely important to find a good balance to clean your dog's ears. Clean the ears too much, and you can accidentally get rid of healthy wax, which serves as a protective barrier against infections and helps the lubrication. On the other hand, cleaning too little leads in a build-up of yeast and bacteria – the main cause of infections. A good indication is cleaning once a week, or when your dog's ears are noticeably dirty.
That is only if your dog is fairly active and the breed is listed above. Keep in mind that you might have to clean more often if your dog is regularly active in the dirt or goes out for a swim. Vets recommend that you check the ears after a rigorous play session as well. So what is the best method to clean your dog's ears? It's crucial that you only use products that are vet-approved so that it doesn't irritate your dog. Simply apply a little bit of alcohol-free animal cleanser to a cotton swab and carefully swab the outer folds of your pet's ear.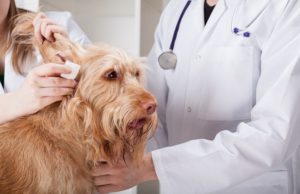 You can also flush your dog's ear, but only when it's necessary. Lift up the pinna and if you can see noticeable dirt or buildup, apply some more cleanser and try to flush out the ear canal as good as possible.
If you don't feel comfortable going deep into the ear canal or if you notice that your dog is uncomfortable, it's best to leave it to a vet.