At 14-years-old, the last thing a miniature poodle named Shey was expecting was to be dropped off at a shelter, but sadly, that's exactly what happened in November of 2017. Shey's family was moving and unfortunately could not take him with them, so they dropped him off at the Animal Rescue League of Iowa.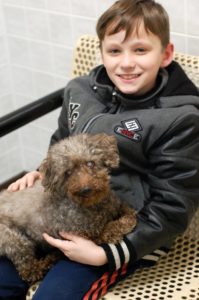 For four long months, he waited at the shelter for a family to adopt him, but due to his age and health conditions – he was passed by day after day. Shey was suffering from a dental disease rotting all but one of his teeth, he was deaf, half-blind, and had never been neutered. The rescue provided the dog with care and surgery, but still – no one seemed to take interest in the senior dog.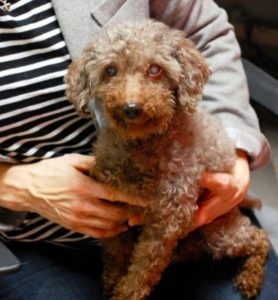 Months later, a young boy named Tristan walked into the shelter wanting to adopt a small, cuddly dog. The shelter staff knew right away that Shey could be the perfect match. "Shey is super sweet and wants to be near people all the time," Jessica Jorgenson, digital content coordinator for the rescue. Tristan took a seat in the waiting room while the staff went to grab Shey.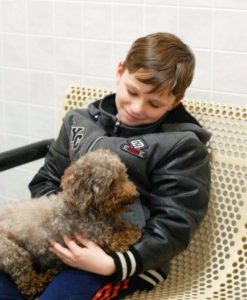 As soon as they placed the miniature poodle in Tristan's lap, both he and Shey were overcome with joy. Tristan couldn't stop smiling and Shey seemed to relax in his arms as if he knew he was with his new family. As Shey cuddled in Tristan's lap, Tristan listened carefully to the staff while they explained all of the dog's special needs. The young boy even pulled out the calendar on his phone to start scheduling future appointments.