Brego and Nami waited and waited and waited. It took nine very long months of waiting before their new baby brother and best friend, little Jedi, was born. The two Weimaraners would cuddle their human mom's belly and make sure it was well protected and kept cozy the entire time she was pregnant. They Were Officially Known As The "Bump Keepers." But little Jedi was finally born and they couldn't have been happier.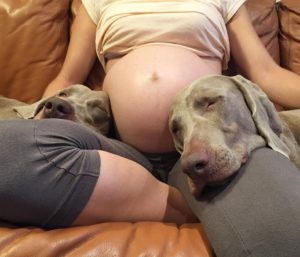 Some parents worry about how their animals will react to a new baby, but Brego and Nami's parents didn't really worry about that since they seemed to be so attached to little Jedi before he was even born. "A common worry of parents to be is how their dogs will react when they bring a new family member into the house, we've tried to do it in the most natural way we could!" their human mom wrote on Instagram.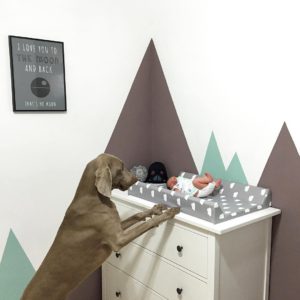 The bond between the dogs and their new boy seemed to get closer and stronger every day. As Soon As Little Jedi Was Born, The Weimaraners Jumped In To Help Take Care Of Him. Even if that meant being near the stinky changing table. But Brego and Nami didn't mind as long as it meant that they got to be close to their little Jedi And it wasn't long before they were besties. "It looks like Brego Has chosen his new soul mate," their human mom wrote on one of their Instagram posts.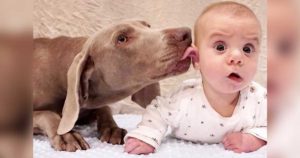 The Dogs Rarely Left Little Jedi's Side And Would Always Make Sure That He Was Cozy And Calm. Little Jedi would often be found with a smile on his face when his furry friends were around. Their absolute favorite thing to do together was nap because Brego and Nami made really good pillows. And every moment of it was absolutely adorable.