For many dogs, bath time is the worst time of the day. As soon as these bath-hating dogs hear the water running, they sprint as far away from the bathroom as possible. While many dogs are not fans of bath time, not all dogs feel this way. The dog in this video shows just how blissful bath time can be.  This adorable pup gets the full spa treatment from his owner.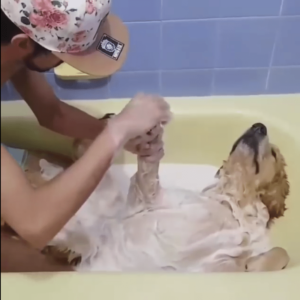 As his owner lathers him with soap, the dog lays on his back with his eyes closed. The pup stays in the zen-like state throughout the entire bath.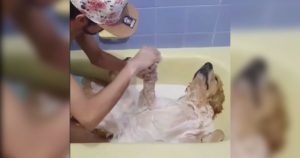 This pup looks like he could happily stay in the bathtub forever. Check Out The Video Below To See The Dog's Amazingly Relaxing Bath Time Routine. I don't know about you, but there's something about pups getting spa treatments that is just adorable. If you feel the same way, take a look at these other videos of dogs getting spa treatments. This Dog Got Pampered With A Very Relaxing Spa And Couldn't Stop Grinning Afterwards!
PLEASE LIKE AND SHARE IF YOU ENJOYED IT