Being the good dog mom that she is, Mourelatos recognized the talent that her beloved canine possessed and lucky for us, she shared it with the world. She captured the car-ride karaoke on video and shared it with the Facebook group "I Love My Dog."
The group aims to create a community on the social media platform that encourages dog lovers everywhere to share videos, pictures, and stories of their canine companions. While there is endless amounts of pure puppy gold on there, nothing quite compares to the video that is Honey singing. She can seriously hold a note!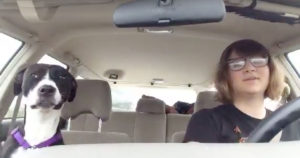 She may not be hitting them perfectly, but she can definitely hold them. If I'm being totally honest, Honey's rendition of "Will You Be There" is still much better than what I've heard some humans attempt at karaoke. She just has the passion, I guess.
PLEASE COMMENT AND SHARE IF YOU LIKE IT