One particularly adorable dog is the Alaskan Malamute, typically bred for their strength, vitality and ability to pull sleds. Still, These Dogs Also Have A Very Soft And Sensitive Side As Well. Rounds On The Internet Recently. The dogs in the video are named Travis, Leila and Zoe. In the video, the three dogs are smushed together in the backseat of the car on their way to the groomer.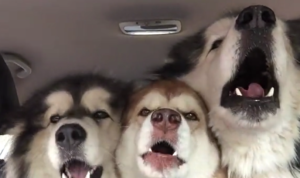 Perhaps realizing where they are going (or else perhaps just because they're riding in a car at all), they all decide to start making some whining, howling noises. Still, The Three Of Them Start Doing It In A Way That Is Capturing People's Attention. Before long, all three of them are howling and singing together like a perfect canine chorus!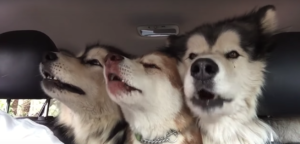 Because they all start to gently howl at the same time and in a similar tone, it truly sounds like the three of them are singing a song together. I Guess We All Know How These Three Feel About Trips To The Groomer Now!Though we all know how many different kinds of dogs there are in the world, it's still a pleasant reminder to see how much personality our furry companions really have.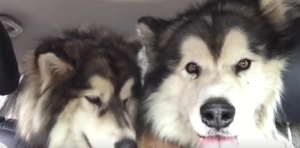 Thanks For A Memorable Performance To These Three!This adorable trio sings out of tune for everyone in the car to hear. Footage perfectly shows that Malamutes love to talk and sing, but vocal harmony isn't something they mastered so far.These canines are sitting in the back of the car and trying to sing in perfect harmony but that doesn't come easy for them. We can only imagine what song they might sing once the grooming is done! According to their human, they sing at least twice daily. They must really love to sing together, which makes them even more lovable and loud! Watch as these balls of fur clear their throats and sing along.