One Siberian Husky is in love with his little human, and he just can't wait until play time to show it. When the baby approaches him, he jumps into play mode! But the dog always remembers to keep a gentle touch. This baby may only be seven months old, but he has already made a friend for life. The baby feels gravitated toward his husky friend – it is as if the two have been brought together for a reason. When you see how cute they are during play time, you'll know that this is a perfect match. The dog was on the carpet doing his own thing when he saw that his human wanted to play. The baby reached out and put a tiny hand on the husky's head, and they both agreed that the games would begin.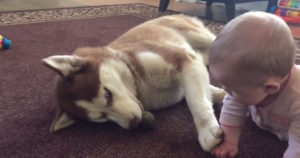 The dog reached for his toy with his snout, giving the little boy a chance to hug him. Once the baby had both of his arms wrapped around the pup, the real fun started. The clever dog rolled over, carrying the baby around with him. How adorable!
The husky laid on his back and snuggled with his human. Then he attacked him with a flow of constant kisses. The boy tried to stop the dog, but the pup just pushed him onto the floor and kept kissing him. This dog really loves his tiny owner.