There's something entrancing about sliding down a hill of snow, and this black Lab agrees wholeheartedly. Winter is coming, but that is not a problem for Rafi, who absolutely loves diving and sliding across the packed snow. Watch as this adorable dog named Rafi body slides down a snow covered hill. Looks like the little guy knows how to have fun!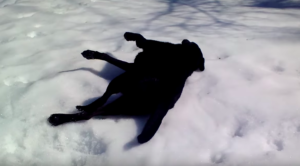 Stick any dog in the snow and they'll do one of two things: either tiptoe to dry ground or chase snowflakes, frolic in the fluff and roll around. However, Rafi did something that we've never seen before: he went sledding! And no, not with an actual sled, but by using his own body as a sled.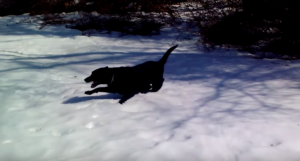 And who wouldn't be laughing if their dog did this? As Rafi bullets across the snow in a streak of black, he looks like a penguin or a seal. Rafi's family doesn't want the fun to end, and so they encourage their pooch to keep sledding. At more than one point in the footage, Rafi lies perfectly still and then pushes off with his legs to slide most of the way down the hill.