Jon Patel and his significant other, Kayla, went to a nearby sanctuary in Jackson, Tennessee, to examine as they weren't altogether certain they needed a canine. However, that changed when the sweetest thing occurred. Out of the majority of the pit bulls there yelping and bouncing up on the pens, one pit bull stood out. A one-year-old pit bull sat there discreetly and smoothly, and it grabbed Jon's eye.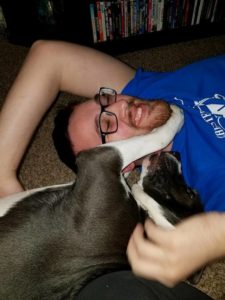 So he strolled over to her pen, and that is the point at which she stuck her little paw out as though to request help. He knew right there and then that they had to have her. The pit bull was surrendered by her former owner because she was no longer "cute." Many people abandon pit bulls after they grow out of the puppy stage, and that's exactly what happened with this sweet girl. The Patels named her Ellie.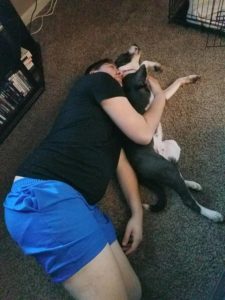 They learned she was set to be put down that day they visited the safe house, however Jon persuaded them to hold her until the next Monday, the most punctual day he could lift her up. The sanctuary concurred however said in the event that they didn't get her Monday, she'd be put down. Be that as it may, the Patels kept their oath and lifted Ellie up Monday!
They took her home, and the canine couldn't trust she at last had an eternity home. As soon as Ellie ventured into the house, she began running all once again the condo and hopping on the overnight boardinghouse!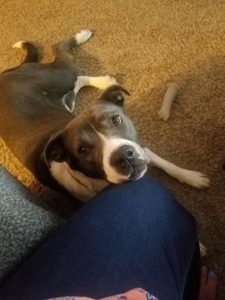 After the zoomies, she relaxed and settled into her new life. That night, Mom and Dad gave her a bath, and she just lay in the tub enjoying the water.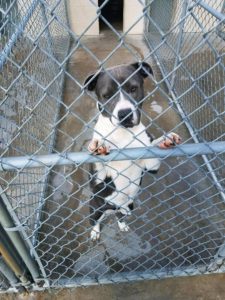 Ellie follows her new parents everywhere they go, and she absolutely loves playing with tennis balls. It was also recently discovered that the pit bull likes bubbles. The only challenge they've encountered is dealing with people's negative reactions to Ellie being a pit bull. People have crossed the street to avoid her, and the Patels have received lots of looks and glances. But the truth is that Ellie wouldn't hurt a fly.