It's normal for kids to turn out to be exceptionally appended to plush toys that friends and family have gotten for them. In many cases, kids won't go anyplace without their preferred toy, and some aren't even ready to nod off except if their toy is in their arms. The equivalent goes for Barley, a one-year-old Golden Retriever living in Amsterdam, who will not go anyplace without his stuffed pooch, Fluffy.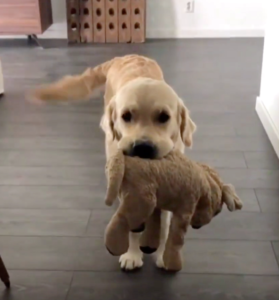 Barley's proprietor, Zita Butler, purchased the soft toy for Barley as an appreciated home blessing when they originally received him. Head servant trusted Barley might want his new toy, yet she had no clue exactly the amount he would really like it. Any place Barley is, Fluffy is directly there with him. Regardless of whether it's strolling around the house or taking a stroll outside, Barley has Fluffy in his mouth.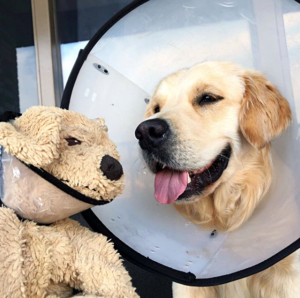 Barley and Fluffy are indistinguishable to the point where individuals in the area presently perceive and love the notable pair and even snap photographs of them when they see them on their strolls. Feathery even appears to be indistinguishable from Barley, so it nearly looks like Barley is bearing his very own genuine baby.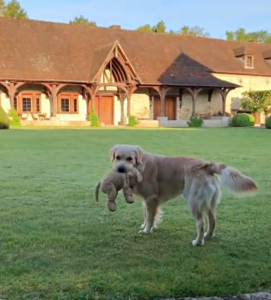 In expansion to being sweet and tender, Butler depicts Barley as a "consideration searcher," "somewhat ridiculous," and a "genuine voyager." A month ago, it was time for Barley to get neutered, which eventually meant he would have to wear the notorious 'cone of shame.'Since Barley was feeling a bit sad about having to wear a cone, his humans got a matching mini cone for Fluffy and it helped him feel much better!