A construction worker named Sebastian Bushey was on his way home when he noticed a tiny puppy all alone on the side of the road. It was a brutally hot day, and he pulled over to save it. But as he called for the pup, six more puppies came running toward him seemingly out of nowhere!It was obvious these puppies had been dumped to fend for themselves by someone.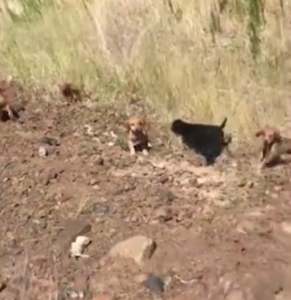 To have no food, water, or shelter in this kind of heat was beyond cruel. There was no way the man was leaving without them, so he loaded them all up and took them home.Not only did he provide them with food and water, but he took the puppies for checkups and proper care. The puppies would be put up for adoption where they would feel love and never have to worry about being abandoned again!  If not for this man noticing these pups that day, it's hard to tell how long they would've lasted out there alone. He's a true hero!Afterward, the video cuts to the puppies energetically feasting on some dog food, fighting to get their fair share which they more than deserve after everything they have been through.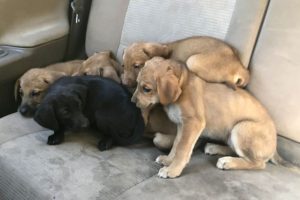 Though incredibly endearing seeing them finally have a proper meal, it is also charmingly funny how they seem to be competing with their brothers and sisters to see who could eat the most. One puppy, in particular, is seen putting his paw around his sibling making the situation even cuter. Sebastian Bushey has later stated that not only were they provided with food and water, but were taken to a nearby shelter as well where they have been properly checked and taken care of.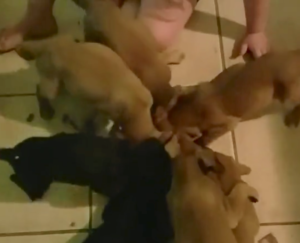 After that, they have been put up for adoption and hopefully, all seven puppies found their forever homes where they will be showered with lots of love. It is thanks to this man's remarkable rescue and care that his seven furry friends will finally find a place where they will not be neglected but treated with proper care, provided with adequate food and shelter and generally shown love, affection, and fun. In turn, they will soon develop trust and loyalty for their new owners and will see that the world offers lots of great things for them. And, it is thanks to other people like this that are able to turn a horrible situation into something good. Hopefully, for every person that decides to get rid of their puppies in this horrible manner, there is another person that will step in and ensure that the innocent dogs in these situations get to live out their life as joyfully as possible.